For Sale
Russell Sheep Company LLC is pleased to offer lambs for sale in three upcoming online auctions. They are our early picks for show ring potential and performance/production. All are NSIP enrolled. "We welcome you to come see them in person here at the farm in East Central Indiana, or call with any questions (Jeremy 765-749-3100). More views and information on these are on the auction websites.

Russell Sheep Co online Suffolk Sale
The following six ewe lambs and one ram lamb are consigned to the Suffolk Sheep Co. Online Suffolk Sale, April 25, 2019, managed by Willoughby Livestock Sales.
USSA Elite Futurity Sale:
April 22, 2019, hosted by Show Stock Planet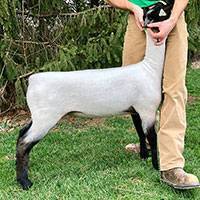 RSC 9020

RSC 9020 has been selected for this elite Suffolk Sale. She is RRNN, sired by KimmBZ2005-17204 "Marvin"

USSA Online Suffolk Sale:
April 29, 2019, hosted by Show Stock Planet