Each time a winter storm blew in we've been left with a puddle of Suffolk lambs.
They're off to a great start! We're putting together our buyer list of folks interested in purchasing Russell Sheep Company genetics.
From puddles of Suffolk to pens of Suffolks
This group of lambs was born the first two weeks of January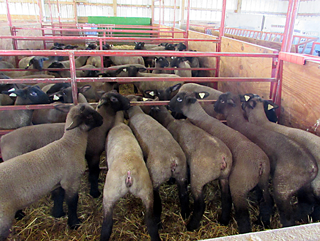 From puddles to pens to prospects
These are some of our great prospects for show and breeding purposes

These exciting prospects are from just the first two weeks of 2018 lambing.
We have five other ages groups coming on – so exciting!

Please contact us to get on our buyer list and look for our entries in the Big Ohio Sale, the USSA online sales, and the two NSIP sales.
Contact us to get on the list and we'll be in touch when selection and sales time draws near.

We'll post individual lamb photos soon. .