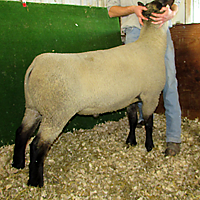 "Gold Rush"
RSC 7613
This is moderate, up-headed ram has an excellent pattern and excels in his muscular shape. He was sired by Mint Gold Ranch 5316 and should be considered as a carcase+/Pemd ram in NSIP. Look for his lambs in 2019. With his profile and shape he should make some good ones!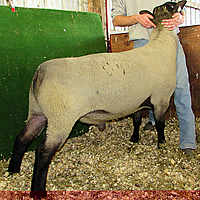 "Fat-Boy Slim"
RSC 7589
If you like production Suffolks, then this is the ram for you! He is from RSC 15061 and Desperado lines, and this yearling ram got the best of both worlds. This is a big footed, wide based, heavy muscled ram that has a tremendous amount of volume. He sired his first lamb crop this year and they look the part. We are excited to see how his lambs do in NSIP.

Picture Coming Soon
"Marvin"
Kimm BZ2005-17204
We purchased this new bloodline at Bob's 2017 Sale. A Kimm 14015 son , he adds extension, breed character, good performance to our flock. In addition, he is structurally sound with an added quality look that we felt would blend well with our genetic base.


"Shamus"
RSC 6510
We leased this ram out in 2016, but we were glad to bring him back for 2017! Out of one of our best maternal lines, this Desperado son is very stout and thickly made. We have a large, outstanding set of 2018 lambs out of him.

Picture Coming Soon
"Scout"
RSC 6531
This ram has a GREAT pedigree with shots of 15061, Roscoe, Slick Slack, and Showtime. He is a very well balanced, sound, meaty ram that has plenty of balance. 2018 offers his second lamb crop and all of his lambs have been consistently thick, and well made.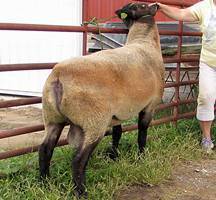 "Top Gun"
We bred and raised a superb Suffolk ram here! He is a unique genetic package – sired by our BMW ram, mated to a ewe purchased from RennVue. He stood 2nd at NAILE as a yearling. Pictured here as a 2 yr. old – we have used him heavily in our breeding program this year.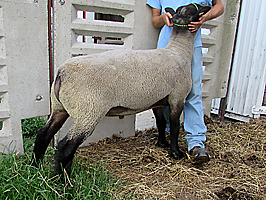 15060
This is a Sparky son and we sure are excited to see what he does this year for us! He is a sound, good muscled, big ribbed sheep, with tremendous bone. He is going to be a very valuable piece of our breeding program for 2017.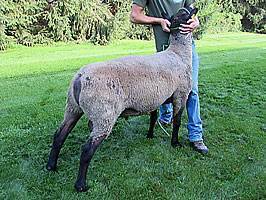 14019 "Roscoe"
 This is one of the rams we saved in the 2014 lamb crop, and we are sure glad we did!  He is #9 on the NSIP Proven sire list with a Carcass+ Index of 152.8!  His genetic heritage is a unique combination of McLaughlin/Griffin, Schminke, and Slack genetics.  His dam was one of our best show ewes.  We love his width, muscularity, and dimension.  His first set of lambs proved his value!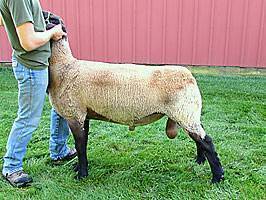 Slack 4342 "Sparky"
This Slack bred ram is a Firestone son. We appreciate him for his structural correctness and his pedigree offers some exciting complements to our ewe base.





---
REFERENCE SIRES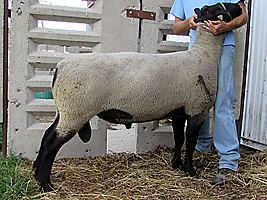 15066 "Tank"
He lives up to his name. If you like big centered, easy keeping, low maintenance type of sheep then this is the line for you! He is a Desperado son, has solid NSIP numbers, and did a really nice job of covering ewes as a ram lamb. Simply put, he is a productive, practical Suffolk ram.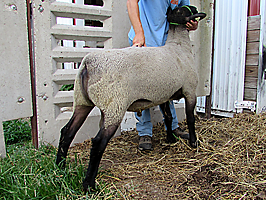 15061
Roscoe son here. This ram combines the best of the production and show world. We are keeping two of his ram lambs back this year. He does a great job of stamping out square hips and big tops that are backed up with EBV/performance data! He will see a lot of ewes this fall.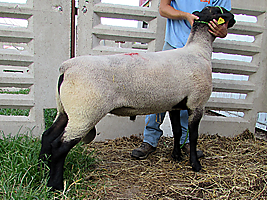 5316 "Badger Bob"
This is a Mint Gold Ram that we purchased at the NSIP Center of The Nation Sale. He is a smaller scaled buck, but he has great EBV/carcass values and handles with a big top. He has also produced some really nice sons, so he should be a good fit into our flock and tie our numbers into NSIP.

JCJ OW1 "Desparado"
Added just in time for the 2014 breeding season, this is a ram we really appreciate. He was purchased from Bob Kimm and provides our link to NSIP. He is the epitome of a quality production Suffolk; massive width with structural integrity. His offspring excel in spring of rib and depth of body.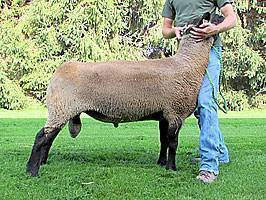 Slack 3172 "Cool Cat"
This Slack ram is a powerful, complete ram! He is moderate in size, and produces vigorous, high quality lambs with a lot of eye-appeal. He has proven to be a valuable breeding piece over the last couple of seasons.
"BMW"/ RRNN
BMW was the Reserve Grand Champion Suffolk Ram at the NAILE 2011 Jr. Show. Bred and raised here at home,he is a Showtime son and is packed with Bone, Muscle, and Width. We are extremely pleased with his lambs.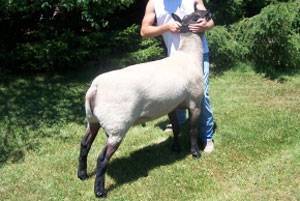 Slack "9460" RR/NN
We leased this ram from Tom for our 2013 lamb crop. He is a large outilned, bold ribbed sheep that has a really good skeleton for as much power and size as he brings to the table. We added a lot of his daughters to our flock!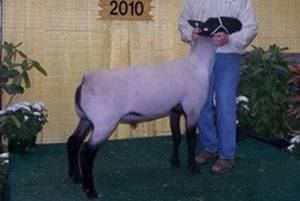 "Triplestack" RR/NN
This registered Suffolk ram lamb came with the purchase of the Phil Hofman flock. A son of the 2008 Grand Champion Whether Sire at Sedalia, his top handled with a massive rack and a really long loin. To compliment this he had an very deep twist with a lot of stifle expression. He also stood with great base width in between his hind legs.  He sired some excellent ram lamb prospects for us.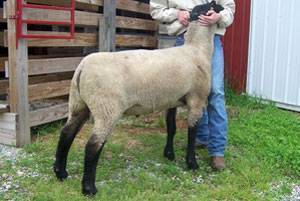 "Rack Attack"/ RRNN
 addition from Tom Slack was quite an impressive registered Suffolk ram. Just like his name indicates he had a huge rack with a really square loin and hip...a ton of base width with an extremely trim front end.




"Showtime" RR/NN
This was a registered Suffolk ram that we purchased from Tom Slack in 2007. He combined length and power with plenty of bone. He was terrific at producing foundation ewes, and a large portion of our ewe base traces back to him.